When is an entrepreneur workday done?
We can all remember that first job we had. A minimum wage position may be working at a grocery store or McDonald's. We had to use a time clock⌚️ to start the workday and to end it. Things didn't change much when I graduated from technical school and started working as an electrical engineering technologist. The office hours were 8 am to 4:30 pm and we were expected to be there between those hours.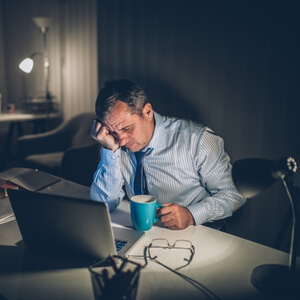 Most of the jobs I have held in my life had a definite start time and end time each day.
When I started working for myself? if I thought that I would work regular business hours and that when 4:30 pm hit I would be done for the day,
I would surely be wrong!❌
I had to meet the needs of my clients and most of them could not meet with me during regular business hours, so I extended my hours to meet with them during the ?evenings or early mornings. I also joined some networking groups that also meet outside of regular business hours, and then I found that I am most creative and productive between 9 pm and 1 am.
How do I know when my workday is done?
None of my days look the same. I can have client meetings at 10 am and at 7 pm. I meet with like-minded people at 2 pm and 8 pm and then at 9 pm I'm putting together proposals and courses and writing up meeting ?notes. When I work like this I never know when my workday should be over. I guess I could work 15 hours a day because I love it and I'm an entrepreneur but I can't sustain this type of workday and enjoy ??life! I need to give myself permission to be done! How do I do that?
I start by setting myself up with a finish ?line each day and when I reach that finish line I am DONE!
Working With an End Goal In Mind!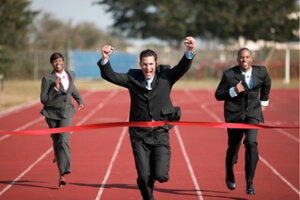 I create my finish line each week with my weekly review that I do every Monday morning?. This is when I establish my three areas of focus for the week. From this, I know what projects I will be working on for the week and each day I assign myself three daily tasks that must be completed before the workday is over.
By creating this structure I give myself a definite finish line, something to work towards, something I know when I reach it just like 4:30 pm.
The flexibility of working for myself means I can work all day every day; I have done that to meet deadlines and client ?‍?needs but this type of workload is not sustainable.
We need to know when the workday is done!
Create a definite finish line so when you reach it you know that you are done.
This gives you permission to leave your home? office or the kitchen table and interact in a meaningful way with your kids, your spouse and friends. You can even let your mind think about things that are not related to work like ?reading the next Shari Lapena novel.

Are you finding it difficult to know when to end your day? I want to hear about it.
Reach out and we can talk about it.