We all want to be productive, and we all need to stay focused on our business and jobs so that we can meet our needs and wants.  However, the stress of always working as hard as we possibly can takes a toll on our well-being. 
Mark Black said, "Sometimes the most productive thing you can do is relax," and he is right!
Make relaxation and rejuvenation a priority
This year it is doubly important to make relaxation and rejuvenation a priority.
Most years I sit down and decide where I want to go that is HOT with beautiful skies and beautiful water, and the sound the ocean makes as it gently creeps up on the beach to float me out to sea.
Some like it hot
This is my idea of rest, relaxation, and rejuvenation.  To go somewhere hot and sit in the sun and sleep or look at the sky and sea. 
I feel so much better both mentally and physically. All that sun, all that extra vitamin D must do something to my system.
Last year we were lucky enough to go to Belize in February. It was hot, beautiful, and fun. We also adopted our little dog, Fred, when we were there. What a life-changing experience that was. It was hot and I got a new best friend.
This year I have to come up with a creative solution that I can use from my bubble of a house that meets my criteria of hot, with beautiful skies and water, These three elements will provide a relaxing, rejuvenating oasis.
5 steps to relaxation and rejuvenation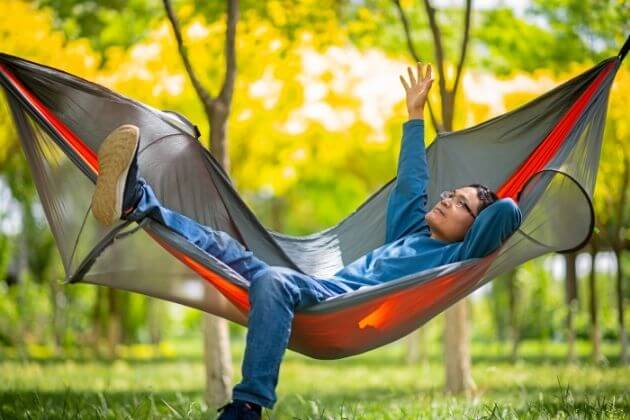 Here are the steps I plan to take to make sure that this year's holiday provides me with the same amount of pleasure that I got last year while still improving my mental and physical health.
The week I'm taking off will be in June or July.  These two months are the hottest months in Alberta (the province in Canada I live in.)  I want this week to mimic the hot weather of Hawaii, Belize, or Florida.
I'm going to make it comfortable.  I am going to create an oasis in my backyard.  That means I'm getting out the lawn furniture, the pillows, towels, blankets, beach umbrella, hammock, sunscreen, sprinkler, and something to play broadway musicals on.  Oh, and I can't forget the kiddy pool with a water fountain.  
Food.  It will be very important.  I don't plan to cook, but I do plan to slowly barbeque ribs.  If I can eat at some of my favorite restaurants I will, but if eat-in is not an option then it's take-out. 
If I get bored, I'm planning an outing just like I would book excursions at a resort.  A bike ride through the river valley, or a walk through the historic section of town, or I'll go to a store I have never been to if that is still allowed, or visit the local lake so I can float my giant swan.  The outing day is totally optional.  I'm pretty sure that I will just be laying in my backyard — well, maybe afloat on the swan!
The beverage is my last step, but it is one of the most important.  I make sure I have a variety.  Ice tea, iced coffee, and lots and lots of water.  My favourite drink is lime juice, cranberry juice with soda water.  I can drink this all day, and have.
Your house is the cabana you never rented
Think of your house as an oasis, it's the cabana that you never rented because they were too expensive at the resort. It's already a space where you feel comfortable and safe so it should make the perfect tropical getaway.
If you feel that staying in your backyard for a week is too isolating, after all when you go to a resort you are always looked at by the other vacationers, then use your front yard!
Most front yards are super empty. Set up a canopy or your beach umbrella and drag everything that you would set up in your back yard to your front yard.
Your neighbors will be perplexed and a bit frightened of your speedo.  You will get stares, you will have neighbors talking about you just like the other vacationers do at resorts.
Hope these ideas were helpful to you. I feel like at this time of year we all need to spend some time thinking about loved ones, doing things that make us happy and spending a few days over Christmas (and next summer) relaxing and rejuvenating and focusing on our mental and physical well-being.